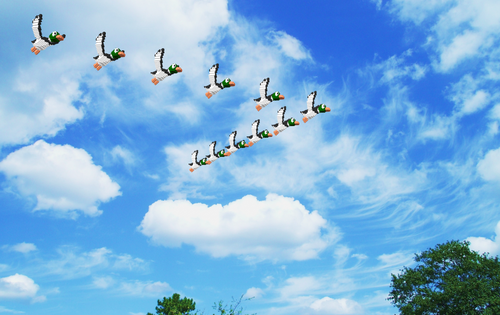 In the mood to buy a video game? You can do things the old-fashioned way and drive down to your local game merchant, or you can forget about using a game console and instead pay a company to stream the video game from their Internet servers directly onto your PC, your Mac, your TV, or even your tablet and/or smartphone.
The latter means of game acquisition–called "cloud gaming"–still befuddles some people. It's not surprising, as cloud gaming (a.k.a. streaming games on-demand) is still pretty new, and game distribution in general has seen some major changes in a very short span of time.
Is cloud gaming a good choice for you? Here are some points to consider:
There are a few cloud gaming services, and they sell their services a little differently — The two best-known cloud gaming services in North America are OnLive and Gaikai. While OnLive exists mainly to steam full games to users via PC, Mac, TV and tablets, Gaikai has a special focus on streaming demos from websites and social media applications like Facebook. A user who samples a demo through Gaikai is given the option to buy the game at a retailer, or online, or can have the full game streamed on a pay-as-you-go basis.
Ultimately, both OnLive and Gaikai offer full games and demos. You can explore the payment plans and game selection offered by each service and determine what works best for you. Other accessible cloud gaming services include OTOY and SteamMyGame.
Cloud-based game distribution is an alternative to consoles — Though it may be hard to believe at first, cloud gaming services are meant to serve as a direct competitor to the game consoles manufactured by Sony, Microsoft, and Nintendo. The games that are streamed to your computer, tablet, etc, can also be purchased on consoles and the PC. What's more, streamed games often go on sale at the same time as their retail-based counterparts. In other words:
Cloud-based gaming has the support of several big publishers — Many big-name publishers are on board with streaming services, including Capcom, THQ, Konami, and Ubisoft.
But not all of them — While cloud gaming offers you the opportunity to play blockbuster games without a console, here's something you should consider: diversity in game selection is still a bit lacking. You're not going to get every game from every publisher, especially not games in franchises that are owned by console manufacturers. Do you enjoy God of War, Halo, Super Mario Bros, or Pokemon? None of them are coming to OnLive, Gaikai, or any other current service anytime soon.
You'll need a broadband internet connection and a decent amount of bandwidth — Services like OnLive beam games to you via an internet connection, so needless to say, you'll need one of those. You'll also need enough bandwidth to support your streams. Visit OnLive's Technical FAQ for more details.
You don't need a high-end PC to play streamed games, but certain specs are recommended — One of cloud gaming's biggest selling points is that you don't need an expensive console or fancy PC to play games, since everything is processed on the company's servers and beamed to your rig. That said, don't expect to be able to play Arkham City on your 486 running Windows 3.1. Certain bare specs are required, and higher specs are recommended. Visit OnLive's Technical FAQ for more details.
But what does it all cost? — The cost of game streaming varies depending on the service you use–and what you want. For instance, OnLive offers 3- and- 5-day "passes" to certain games for lower prices than what it would cost to stream the full game for an unlimited amount of time. Prices vary from game to game, and not every game offers limited day passes.
Gaikai, on the other hand, offers you the chance to buy full games at retail, or to continue streaming a demo on a pay-as-you-go basis. Again, it all comes down to researching the different plans available and determining what's best for you.